Your Kernersville & Winston-Salem Fitness Trainer and Fitness Consulting
Are you putting in the workout effort but not getting the results you want?
Want to upgrade your personal fitness regimen but don't know where to start?
Need a workout routine to do at home?
If you are a self-starter, a custom-designed fitness program is a great way to get on track and stay on track. Fisher Fitness Training is your dedicated fitness trainer that can help you reach your fitness goals faster. With customized fitness consulting and a holistic approach, you'll get that better physique by focusing on the exercises your body needs.
Damian's workouts are designed specifically for your goals. He tailors meaningful exercise to each person's needs… nothing pulled out of a book! He uses his in-depth understanding of anatomy, physiology, and kinesiology to help you reach your fitness goals.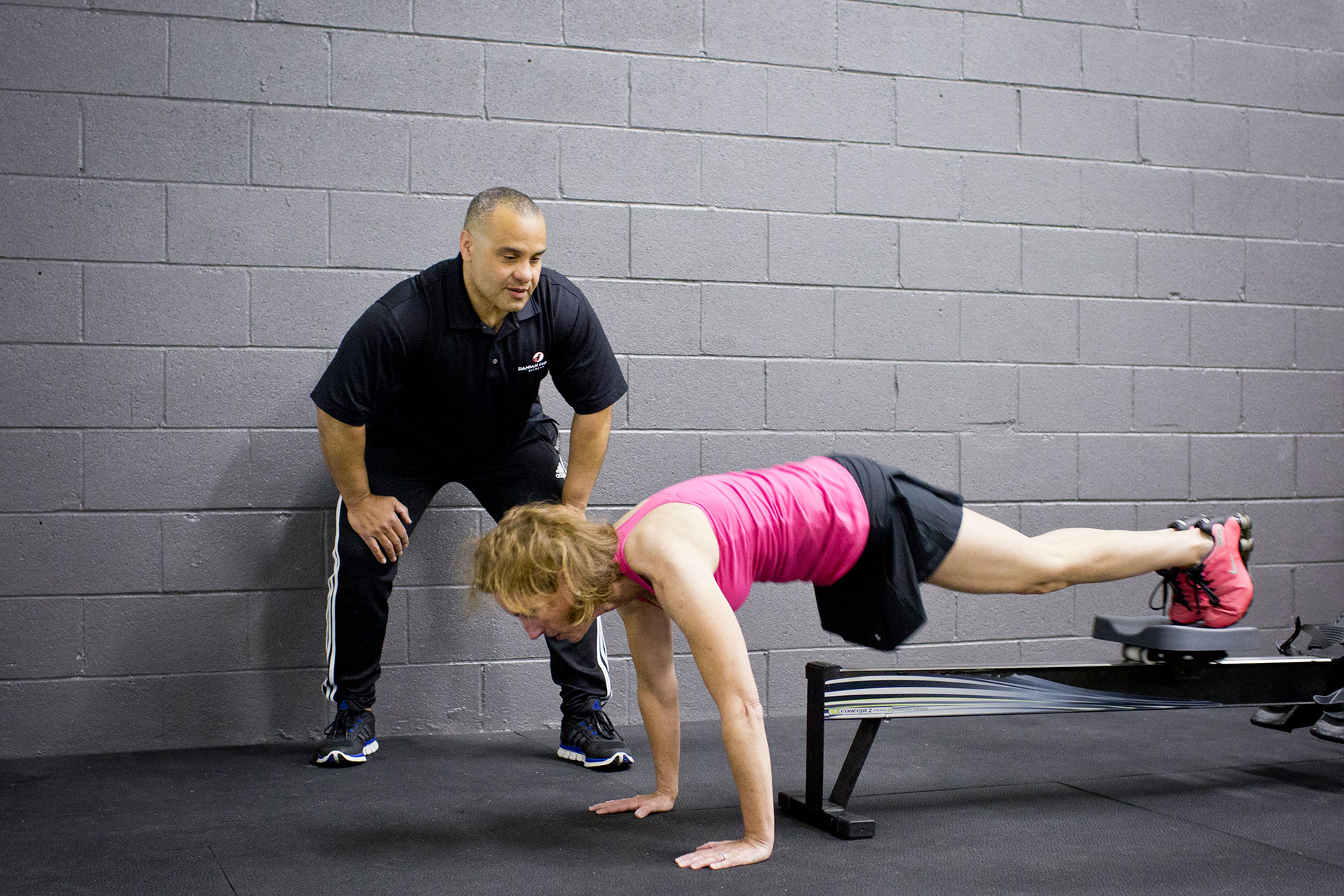 Get a Fitness Trainer on Your Team
Want a better physique but don't have time to meet with a fitness trainer? One-on-one fitness training does work best. But we understand that you probably have a busy life.
Maybe you don't live near a gym.
Perhaps your budget is tight, and it's not feasible to pay a trainer to be at your side.
Or maybe your schedule doesn't allow you to meet with a trainer when they're available.
That's why we are experts at creating individual fitness plans to help you achieve the condition, strength, and body physique that you want. With Fisher Fitness Training, you can expect the highest level of fitness consulting from a top-level fitness trainer. And you can take all of the knowledge home with you to work out on your own.
Initial fitness consultation
Best workout routines for your fitness level
Correct body positioning so you're working the right muscles
Exercises that coordinate with access to equipment
Program walk-through for workout confidence
Proper nutrition before and after your workouts
Suitable everyday nutrition for your body type, lifestyle, and goals
New monthly programs to avoid workout plateaus
Phone/video and email access during training consulting
And more!
So, when you're ready to get in shape or push yourself to the next level, just give us a call! We'll be happy to provide the support you need.
Your Initial Fitness Consultation
At Fisher Fitness Training, there's no such thing as a cookie-cutter workout. Every workout routine is custom-designed for your fitness needs and desires.
During your initial consultation, we can determine your current training level and goals. No matter what shape you are in today, we can work together to get you where you want to be. Together, we'll perform a fitness assessment and a nutritional assessment to determine where you are today, and the steps needed to reach your goal. Through these assessments, we'll be able to maximize the results from your personal training program. And we'll track your progress as you go.
Damian Fisher has worked with clients who are overweight and want to finally shed those extra pounds. He's helped clients build strength, endurance, and balance for other sports activities. And he has trained and consulted with clients who have become professional bodybuilders.
Fisher Fitness Training has clients in the following areas:
Clemmons
Greensboro
High Point
Kernersville
Oak Ridge
Sandy Ridge
Stokesdale
Summerfield
Walkertown
Winston-Salem
And out of state!
Your Custom Fitness Program
With professional fitness consulting, each program is custom designed for the person, including their abilities and workout schedule. Whether you can fit in a few short fitness routines each week or you want a more comprehensive program, Damian Fisher can create a plan that suits your needs and time availability. And you will see results! In fact, you'll notice results with just a commitment of a few days a week. Want more results? Add another day to your schedule.
Fitness Programs for 1–2 days per week
Fitness Programs for 3–4 days per week
Fitness Programs for 5+ days per week
Before you begin your fitness routine on your own, we highly recommend a professional program walk through. If you're not positioning your body correctly for a particular exercise, you won't get the results you want from all of your effort.
Correct form is essential. With Damian at your side, you can be confident that you are performing each exercise properly—and for the most benefit. We can schedule your program walk-through in person or through video or phone conferencing.
With Continued Fitness Consulting, You Get a New Routine Every Month!
It's time to get away from ho-hum, boring workout routines. It's true that variety is the spice of life… and variety is also key to proper body conditioning over time. With Fisher Fitness Training, you'll get all the variety you want and the exercises your body needs.
Plus, no matter what type of fitness training you have, the human body will naturally reach a plateau at times. This is when it's essential to change your workout routine in order to continue challenging your body and working different muscle groups. And that's why it's important to train for both strength and endurance.
With Fisher Fitness Training, you get expert guidance, direction, and accountability to make your workout efforts more worthwhile. Whether you are getting fit at home or at our facility, you'll have the tools you need to achieve your fitness goals. Your dedicated fitness trainer will work with you on all levels to help you get the results you want.
Ready for a dedicated Fitness Trainer?
Call Today for Fitness Consulting Rates!
336-314-9038