Personal Fitness Training Combined with a Small Group Experience
Take your fitness to the next level! Join us for our next Small Group Training Class.
Small Group Training offers the best of two worlds—social interaction and support through group fitness plus the accountability and attention of a personal trainer.
Damian Fisher can incorporate the following training methods into small group workout routines.
HIIT Training (High Intensity Interval Training)
Interval Training
If you'd love the attention and discipline you get with a personal trainer, but don't have the budget, Small Group Training (SGT) may be perfect for you!
Small Group Training has been gaining in popularity. The personal training format gives you the opportunity to benefit from the instruction and education of a personal trainer. Plus, you get the advantage of professional fitness expertise at a lower price point—and with a group of like-minded individuals.
Small Group Training will help you exceed your goals by utilizing the latest training tools and equipment. Small Group Training is also ideal for those who want access to special equipment that they don't have available at home or don't know how to properly use.
Kettle bells
Battle ropes
Weights
Barbells
Medicine balls
Agility ladders
Aerobic steppers
TRX equipment
Workout machines
Exercise bikes
Elliptical trainers
Rowing machines
Treadmills
Ab rollers
Exercise balls
Resistance bands
Balance disks
Half-ball dome balance trainers
And more!
Some people may prefer the motivation of a group environment in addition to personal fitness training. So, you are not only accountable to and motivated by yourself and your personal trainer, but also a group of people with similar fitness goals. We've seen members of small groups build up and support each other toward reaching their fitness goals—and even form lifelong friendships along the way!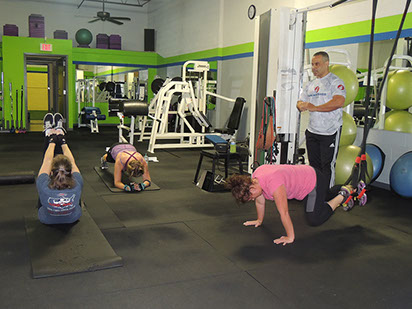 One-on-One Training vs. Small Group Training
With one-on-one personal fitness training, you get individual attention with a personalized workout. The focus is totally on you the whole time, so you get an education about your body and your fitness needs.
Small Group Training combines personalized attention with a group experience environment for those ages 14 and up. Although everyone is attending the same workout, you can still make individual changes to adjust for your needs. Your personal trainer will pay attention to each person in the class while providing an overall group experience with peers. Even in a group environment, the focus is still on individual progression and skill development. And you'll definitely get a workout!
Fisher Fitness Training has clients in the following areas:
Clemmons
Greensboro
High Point
Kernersville
Oak Ridge
Sandy Ridge
Stokesdale
Summerfield
Walkertown
Winston-Salem
And out of state!
Call today to find out about Small Group Training opportunities with Fisher Fitness Training!
Or let Fisher Fitness Training create a custom small group training program for your specific group:
Co-workers
Sports teams
Couples
Running groups
Weekend warriors
Moms
Business executives
Seniors
High school students
College students
And more!
Whether you just want to get back in shape or you're an athlete looking for high-performance training to gain a competitive edge, Small Group Training can offer the level of fitness you're looking for.
What You Can Expect from Small Group Training
Unlike aerobics or yoga classes, your trainer doesn't work out with you. Your personal trainer is there to teach, observe, and assist. Your personal trainer will help guide each person, ensure that you are using proper form while exercising, and provide workout adaptations for those who may have an injury or health issue.
You may all work out together or your personal trainer may set up stations for everyone to rotate and experience a workout for different muscle groups.
You'll have fun and get a high-quality workout—plus motivation and useful information. It's intensity with intelligence!
Most classes have fewer than 10 participants. So, there is still plenty of individual attention from your trainer. In a small class, you get a personal trainer who is highly skilled in both body movement and education. Your trainer will supervise your movement and help you make small corrections during your workout.
With a meaningful workout, you experience real and lasting change in both body and mind. And you get the experience of doing it with others. You're not alone… you're in it together!
More About Small Group Training Sessions
Most Small Group Training programs run for about four to six weeks. This is a short enough time span for numerous people to commit without scheduling conflicts. And it's still long enough for individual participants to notice measurable progress.
Some Small Group Training session can last longer. For example, if you have a small group of people who are training for an event, you may want to train for an eight to 10-week period before the event to ensure that you are in prime physical condition.
Longer Small Group Training sessions may be ideal for event training.
Marathon
Triathlon
Mud Run
Iron Challenge
And more!
Ready to have fun, work hard, and meet new people?
You're invited to join our Small Group Training sessions.
Come along and embrace your inner athlete!
336-314-9038