Fitness and Strength Training in Kernersville & Greensboro
Athletes, Bodybuilders, Weightlifters, Weekend Warriors, Executives, Moms, Dads, Teens, Seniors!
Do you wish you could lose that extra weight?
Want to stay in shape for your weekend adventures or trips?
Need someone to get you prepped for your next contest?
Want to work out without the crowd, noise or waiting for machines?
Fisher Fitness Training offers first-class fitness and strength training in the Kernersville, NC, area.
Did you know… You can benefit from the expertise of a properly qualified and experienced fitness professional. By working with personal trainer Damian Fisher, you can achieve your goals faster, reduce injury risk, be held accountable for each step toward your goal, and be positively encouraged on your progress every step of the way.
His clients range from people who have never been in a fitness center before and those who are trying to get back on the fitness track to competitive athletes and seniors who want to stay in shape well into their retirement years—and everyone in between.
Fisher Fitness Training offers individual and small group training, fitness consulting, contest prep, and more.
Personalized training
Small group training
Custom workout programs
Fitness consulting
Nutrition consulting
Drug-free bodybuilding and contest preparation
Marathon and triathlon training
Athletic training
Weight loss training
Weight lifting training
Strength and agility training for seniors
Video consulting
And more!
Benefits of Strength Training
Why start a strength training regimen? There are certain benefits to strength training. You'll feel better physically. You'll build muscle and reduce fat. And you'll definitely look and feel stronger. But aside from the obvious physical benefits, you'll discover still more psychological benefits to fitness and strength training.
Renewed inner strength
Greater personal confidence
Peace with your inner self
Better mental health and well-being
Improved mood
Better digestion
Better body image
Less depression
Enjoying life more
Feeling more competent
Higher self-esteem
Feeling stronger
Better self-image when you look in the mirror
Mental boost
See a difference in your muscles
Boost brain power, cognitive thinking
Ward off dementia
Increased pride (not feeling intimidated)
More in tune with your body
Added positive feelings
Less worry and stress
Better mental outlook
Better life perspective
Higher energy levels
Less worry about your weight
And more!
Every client has a goal. So, what's your goal? Damian has worked with a wide variety of people from all different ages, backgrounds, and abilities to achieve the results they want. Damian has helped his clients achieve these results and more:
Better sports agility and injury prevention (basketball, football, baseball, soccer, skiing, and more)
Maintain and increase overall strength (new moms, weekend warriors, golfers, etc.)
Improved balance and core strength (gymnastics, ice skating, yoga, surfing, and more)
Contest prep (weight lifting, body building, physique, posing)
Event training and preparation (marathon, triathlon, road race, bike race, and more)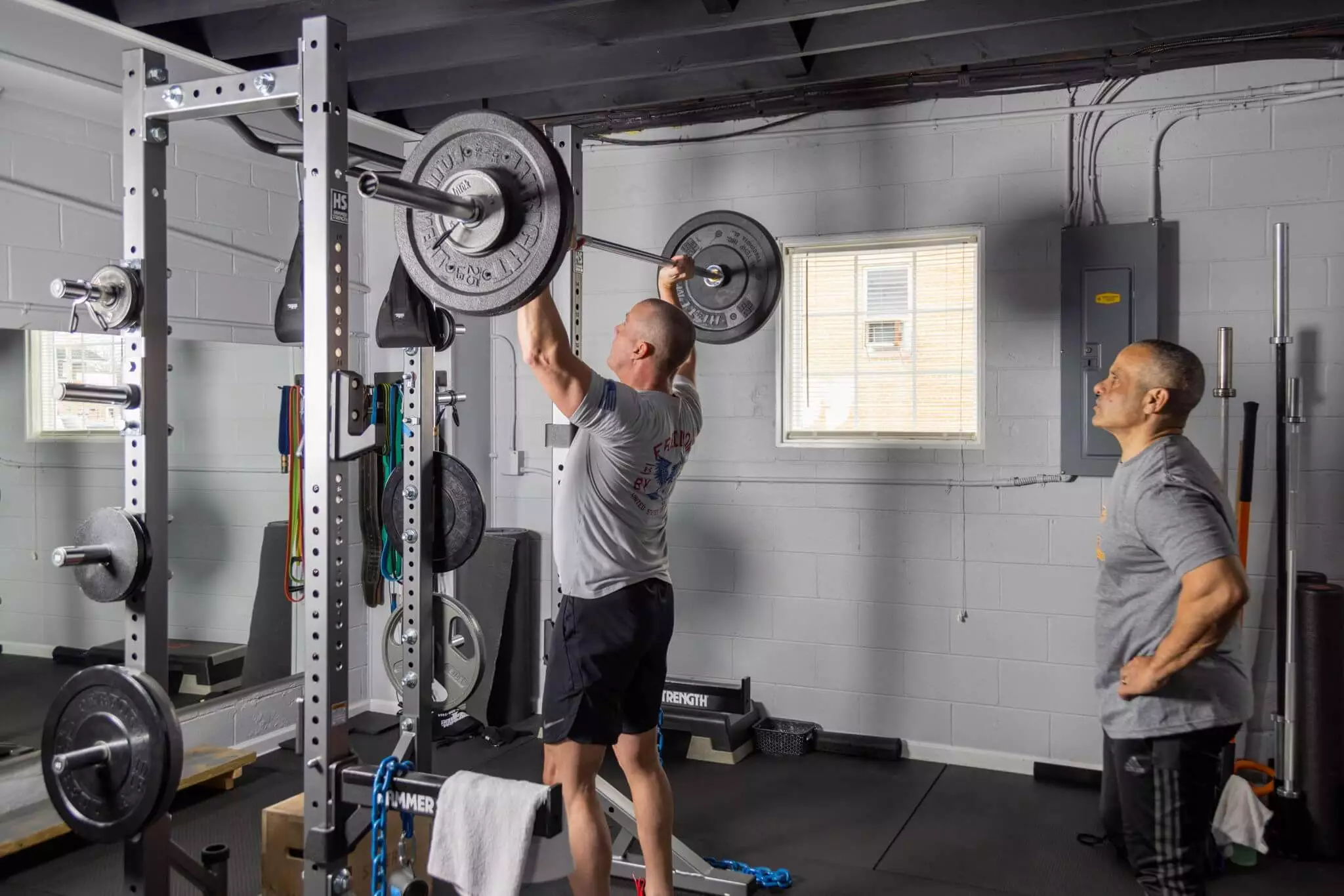 No More Wasted Gym Memberships
Tired of wandering around the gym, wondering which machine will help you get the results you want? Do you dislike the noise and crowds?
When you work out with Fisher Fitness Training, you'll get a top-notch workout that's specifically designed for you and your personal goals. And you'll be surrounded by people who are all serious about their own fitness routine. No more audience, no more loud noises or echoes, and no more wasted dollars.
Damian will work together with you to create a routine that will accomplish your goals—all on a time schedule that fits your availability and budget.
It's time to start feeling better about you!
Let's schedule your first strength training session today!
336-314-9038
Fisher Fitness Training has clients in the following areas:
Clemmons
Greensboro
High Point
Kernersville
Oak Ridge
Sandy Ridge
Stokesdale
Summerfield
Walkertown
Winston-Salem
And out of state!