Get Amazing Results with a Top Fitness Trainer in Kernersville & Greensboro
Welcome to professional fitness training at its best! Fisher Fitness Training is owned and operated by professional, personal, and fitness trainer Damian Fisher—a top Professional Fitness Trainer in Kernersville and Greensboro, NC.
Damian is your teammate on the path to your overall health, wellness, strength, and physical fitness. His mission is to improve your quality of life with a holistic approach to fitness, nutrition, and body education. Damian creates workouts that are both realistic and tailored to you—and designed to challenge you at the right pace.
Fisher Fitness Training offers a variety of options for all needs and skill levels.
Personalized workouts for all fitness levels with proper technique demonstration (in studio or to work independently at home, on the road or at the gym)
Fitness and nutrition consulting (eating the right types and amounts of food at the proper times of day)
Contest prep for bodybuilding, figure and physique training, competitive posing, and coaching
One-on-one, small group or boot camp settings at our Kernersville facility or in the convenience of your home or office
Dedicated trainers who will guide your fitness journey with the same holistic approach as Damian
Video consulting for those times you can't make it to the gym but still want some one-on-one attention
No More Cookie-Cutter Workouts!
Your workout with Damian Fisher will be safety and skill based. More important than working your muscles is getting fit the right way, using the right body positions. Damian will teach you how to work out and properly align your body with the right movements—so you're working the right muscles in the right way.
Prevent unnecessary injury to your back, knees, arms, legs, neck, and shoulders with a certified master fitness trainer as you work out. You'll avoid stress, strain, and injury to your muscles, ligaments, and tendons. And you'll be seeing the results you want in no time!
"I strive to motivate and inspire you through positive guidance and support as we set out to accomplish your fitness goals together."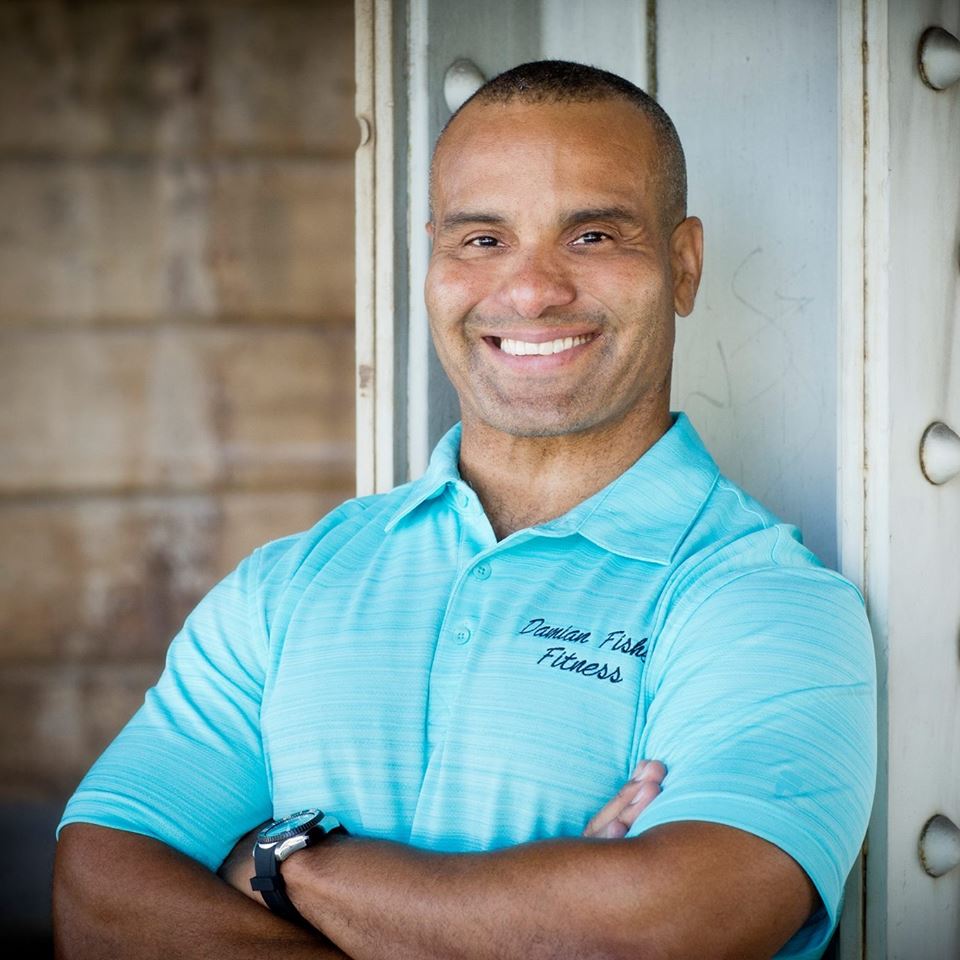 Damian uses the S.M.A.R.T. principle with his clients to define their personal fitness goals.
Specific – Together, we'll set out exactly what you want to achieve with clear, definable steps and goals.
Measurable – We'll benchmark your progress to help with motivation and allow you to recognize the progress you make.
Attainable – We'll make your goals challenging enough but won't overwork you or cause undue stress to your body.
Realistic – Regardless of your fitness level, we'll keep your personal fitness goals realistic and within reach.
Timed – We'll set a reasonable timeline to help you reach your goals. And we'll stick to it. With a specific, timed goal to work toward, you'll stay focused on the finish line. You've got this!
Professional fitness trainer Damian Fisher operates out of Kernersville, NC.
Fisher Fitness & Training
129 Church Ln,
Kernersville, NC 27284
About Damian Fisher
Damian Fisher is the founder of Renaissance Fitness, Inc. in 1997, a company dedicated to promoting fitness, health, and training services. Damian has a B.S. Degree and is also a Certified Master Fitness Trainer by the National Gym Association with more than 20 years of industry experience as a Professional Trainer and Consultant.
As a top professional fitness trainer in Kernersville and Greensboro, he is insured and has been fully licensed as a service business since 1998.
Damian has worked with people of all ages, skills, and abilities in the fitness industry for more than 20 years as a personal fitness trainer, franchise gym owner, personal training director, and natural body building contest promoter in the Southeast. He provides customized, one-on-one training for beginners to professional athletes.
More about Damian Fisher
Certified Master Fitness Trainer (CMFT) with National Gym Association (NGA)
Professional fitness trainer and consultant since 1997
(FORMER MR NC) 1997 North Carolina State Bodybuilding & Fitness Championship: Winner Middleweight Class (Mr. North Carolina and Teenage Mr. North Carolina)
Natural Bodybuilding and Fitness Contest promoter, Head Judge, and Chairperson
Graduate of NC A&T State University, B.S. Animal Science
President of Renaissance Fitness, Inc., personal training and event promotion
Fully licensed
Insured
CPR and First Aid Certified
Soccer coach
Cub scout den leader
Mountain biker
A Graduate of NC A&T State University, Damian has been in the fitness industry since 1997. He has been a franchise gym owner, training director, and a personal training studio owner. His roots are in personal training, kinesiology, anatomy, coaching, and consulting.
Damian's specialty is customized professional fitness training. He creates workouts designed specifically for you based on your fitness level, age, health, schedule, and goals—whether you plan to maintain your agility in your senior years, want to lose weight or regain your muscle strength or prepare for your first bodybuilding competition or triathlon.
Damian works with the following clientele:
Busy business people
Seniors who want to enhance their quality of life
Competitive athletes for sports & conditioning training
And more!
"You'll be amazed at what you can accomplish with just a 30–35-minute workout a few times a week, targeted to your specific goals."
Realizing people's limitation on both time and resources, Damian has developed 30- and 45-minute exercise routines for weight loss, muscle toning, balance, plus increased energy and vitality.
Nutrition is also a key component of any weight loss or fitness plan. So, Damian's routines will also incorporate proper nutrition consulting along with exercise. And you'll see amazing results!
Get ready for your best fitness experience!
Schedule a consultation TODAY with Damian Fisher—top fitness trainer in Kernersville!
336-314-9038
Fisher Fitness Training has clients in the following areas:
Clemmons
Greensboro
High Point
Kernersville
Oak Ridge
Sandy Ridge
Stokesdale
Summerfield
Walkertown
Winston-Salem
And out of state!