Your Kernersville Personal Trainer for Bodybuilding Training
Get Ripped, Defined, and in Peak Condition—Drug-Free!
Are you a competitive bodybuilder?
A physique or figure competitor?
Or are you simply trying to "peak" your physique for an event?
Damian Fisher is a pioneer of drug-free body building in North Carolina AND promoter of the 1st fully tested and sanctioned drug-free event/competition in 1992.
We can help you get ready—from initial prep to suit selection and walking on stage! Get in peak condition with personal trainer Damian Fisher: former Mr. North Carolina and Mr. Teenage North Carolina, who has also served as a Natural Bodybuilding and Fitness Contest promoter, head judge, and chairperson.
Damian is known along the East Coast as one of the most influential promoters of drug-free bodybuilding and fitness competitions, including INBF, WNBF, NPC, and NGA. He has trained and coached numerous pro and amateur natural bodybuilders and figure competitors to success.
Bodybuilders training with Damian have worked their way into the pros with his top-notch services.
Winning workouts for bodybuilding training for both men and women
Strategic workout efforts using kinesiology for maximum results
Personalized pre-contest and off-season training programs for peak muscularity and body condition
All-natural diet and supplement program to feed and build muscle growth
Defined physique and improved posing and stage presence
And more!
"During preparation for my Men's Physique show, Coach Damian laid out everything I needed to do in order to get into peak condition. He gave me specifics: grams of protein, carbohydrates, and fat, as well as how many ounces of water I needed to take in as I got closer to show time. He recommended foods that would allow me to hit the desired macros. On show day, he informed me if I needed more ProTan or not and what to do in order to hold my peak for both show days. Damian gives training specifics that leave no room for uncertainty for his clients, and he a delivers a clear pathway toward success!"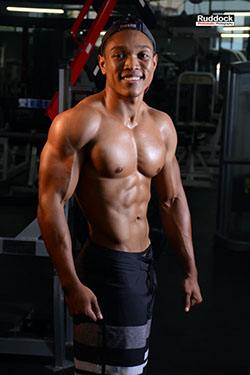 Get Extreme Muscle Growth with a Personal Trainer
Get ready to set goals and train for extreme growth! Damian is a highly skilled expert at transforming your body into lean, rock-solid muscle. And he has worked with both men and women as both amateur and professional bodybuilders.
You don't have to take drugs to gain extreme muscle growth. You just need to perform the proper exercises the right way, eat the right food to feed your muscle strength and growth, and take only natural bulking supplementation.
Fisher Fitness Training has clients in the following areas:
Clemmons
Greensboro
High Point
Kernersville
Oak Ridge
Sandy Ridge
Stokesdale
Summerfield
Walkertown
Winston-Salem
And out of state!
Natural Bodybuilding and Personal Training in Kernersville, NC
If you're looking for natural bodybuilding training in Kernersville or the Triad area, Damian Fisher knows how to get you to the top. He will help you build lean mass and a well-defined physique.
As a natural bodybuilding personal trainer, Damian helps athletes reach peak conditioning through sound nutrition and drug-free training. And he will work with you every day to help keep you motivated to train for success.
Daily training regimen (in studio and at home)
Contest Prep
Posing coaching and techniques
Physique
Nutrition counseling
Video consulting as needed
"When I first started working with Damian, I was not happy with how I viewed my body. I have always been very active but struggled with keeping my weight steady, which was very discouraging. I thought that if I worked hard enough, I could manage my weight on my own—and that could not have been further from the truth! I had two goals when I first met Damian. One of my goals was to lower my body fat and build muscle in a way which was sustainable—even if I wasn't competing. My second goal was to keep my strength while losing weight. Being a firefighter, it was very important for me to keep my strength be able to perform on a daily basis. Damian not only helped to change how I viewed food, but he helped me regain my confidence and be proud of what I see in the mirror!"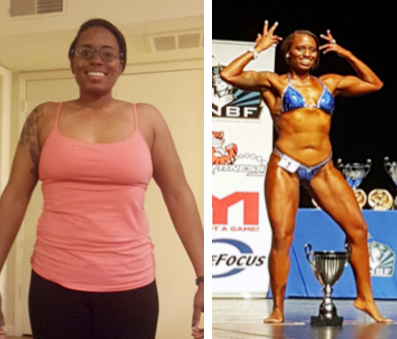 Bodybuilding Training That Changes Everything!
Damian's comprehensive training program is for anyone—man or woman, beginner or advanced—who is ready to work hard, train smart, and achieve their dream, lean, and muscular body. You'll be amazed at what you can achieve through dedicated workouts and the right nutrition!
With the Fisher Fitness Training bodybuilding program, you'll get the perfect balance of weights, plyometrics, and cardio to burn fat and replace it with lean, well-defined muscle.
Damian will consult together with you in person, by phone, or via Skype or email to keep you on track to achieve the results you want. Bodybuilding seminars are also available for small training groups.
Get Ready for the Muscular Physique You've Always Wanted
Call Fisher Fitness Training TODAY!
336-314-9038