Senior Fitness Today Is Your Key to Stronger, Better Health Tomorrow*
It's Never Too Late to Get in Shape!
Do you rely on a cane for balance these days?
Do you find yourself walking with less confidence?
Have you noticed that your energy level wanes toward the end of the day?
What Inactivity Does to Your Body
Maybe you remember your parents growing old and frail and weak. Perhaps you recall ongoing doctor visits, endless prescription medications, and multiple surgeries for various health issues. The problem is that all of these approaches are reactionary. Instead, Damian Fisher takes a preventative and holistic approach to aging.
"I subscribe to the pay now or pay later principle. You can choose to 'pay now' by investing in keeping your body in shape or pay later with poor agility, failing health, medications, surgeries, and more."
Which would you choose?
Many seniors resolve to live a sedentary lifestyle… spending up to 10 hours a day sitting or lying down. It's a downright unhealthy habit. When you stop using your muscles as much, they begin to deteriorate, lose flexibility, and weaken.
And that's when the injuries start happening… from even the easiest daily activities. Your health problems can worsen, robbing you of the ability to enjoy even the simple pleasures of life. Don't let that be your story!
Coordinated, Balanced, Mindful Movement for Seniors of All Abilities
If it's been a while since you've been active, you may think that you're not capable of exercising. But that's just a lie that we tell ourselves. The truth is that no matter how long it's been since you've been active, you can always get back to where you were before—or at least as close as possible.
"One of my greatest passions is working with men and women in their senior years. It's exciting to see them gain strength and agility—far beyond what they thought possible. And their doctors are amazed at their progress!"
Whether you spent your adult years as a workaholic who never exercised or lived life as a couch potato, physical fitness is well within your reach. Fisher Fitness Training specializes in senior fitness throughout the Kernersville and Triad areas. Damian can create a fitness program that combines cardio, strength training, flexibility, and balance for seniors of all skill levels.
"If I can get a 97-year-old woman to do bench presses, then you can do it too!"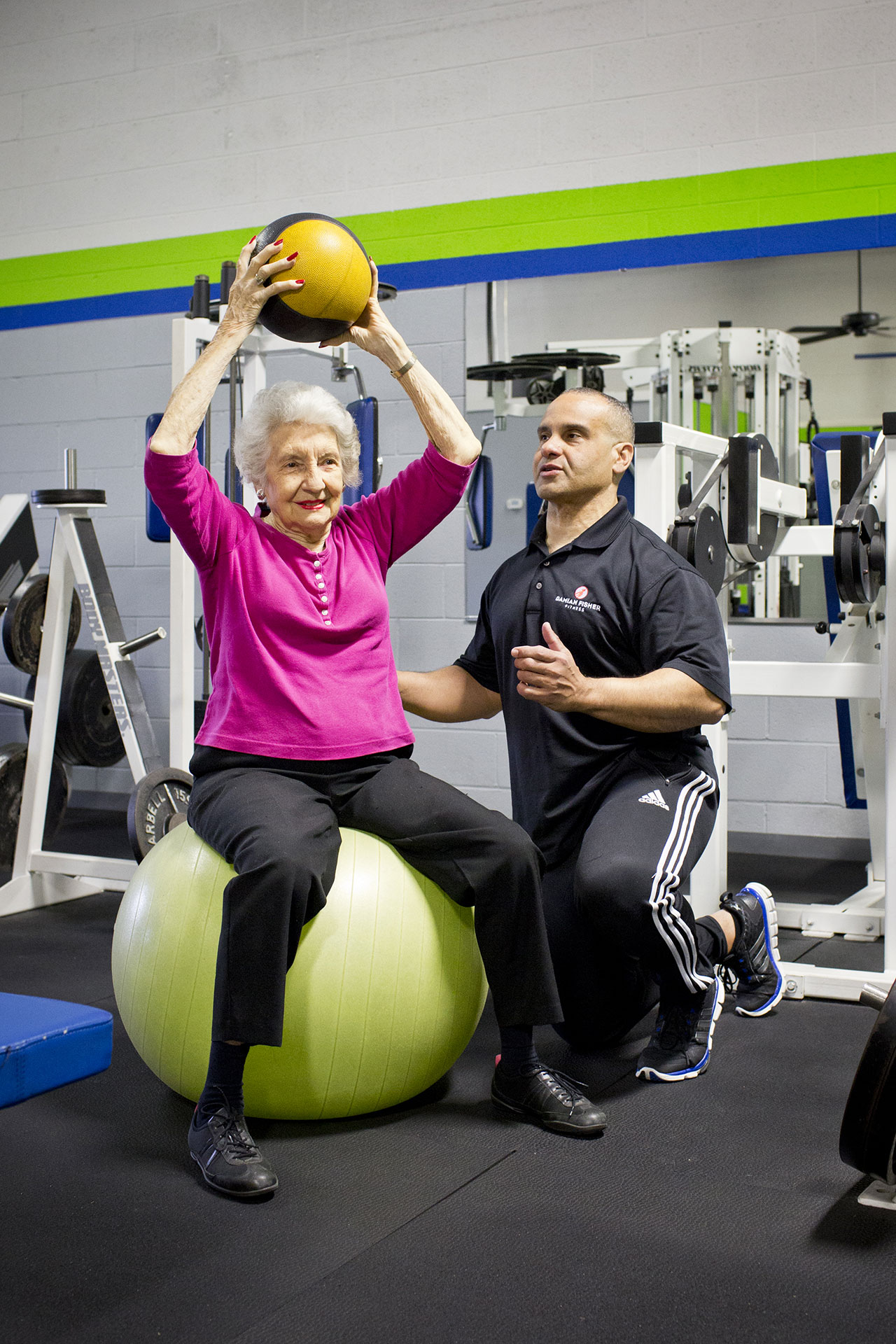 Ready to work out? Damian is in his 50s and relates well with older clients!
Keeping your body in the best shape possible ensures that you will not only live longer, but you'll be enjoying life more. You'll be more active, and you'll be out there having all the fun you can get.
Don't fall under the stereotype of old and frail. After all, 80 is the new 70, 70 is the new 60, and 60 is the new 50. You get the picture!
You can look, feel, AND act 10 years younger than you do today. Not only is it possible, it's been done. But don't take my word for it…
"At 86 years old, I began to have problems with my balance and walking. I fell 4 times within a 2-week period, and I was afraid my active lifestyle was coming to an end. Damian scheduled me for an evaluation/consultation, and I began my sessions the following week. With his knowledge and instruction, I was quickly back on my feet and have had no more accidents. I am getting stronger with every workout, I feel wonderful, and I am enjoying my independent life again!"

~Flora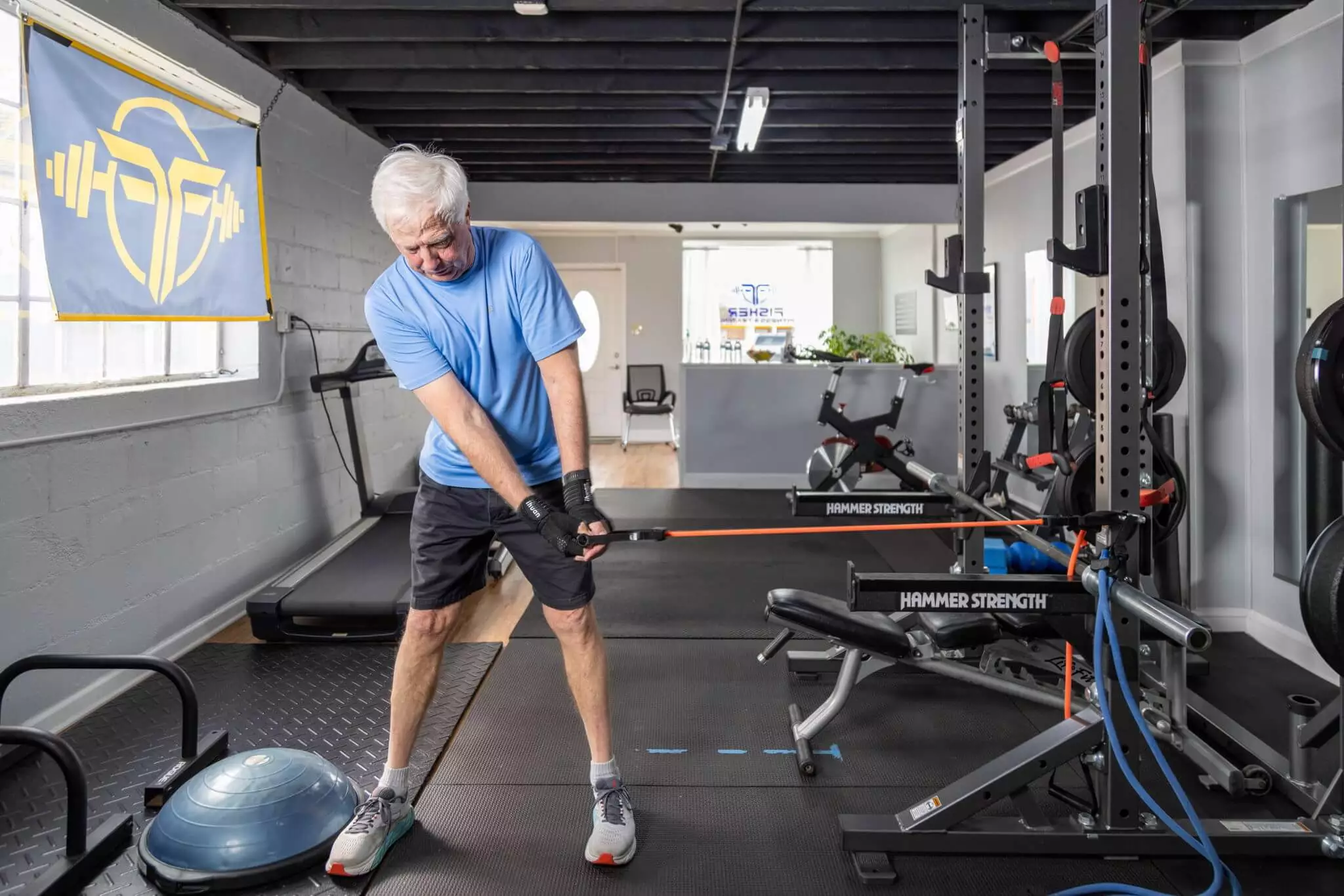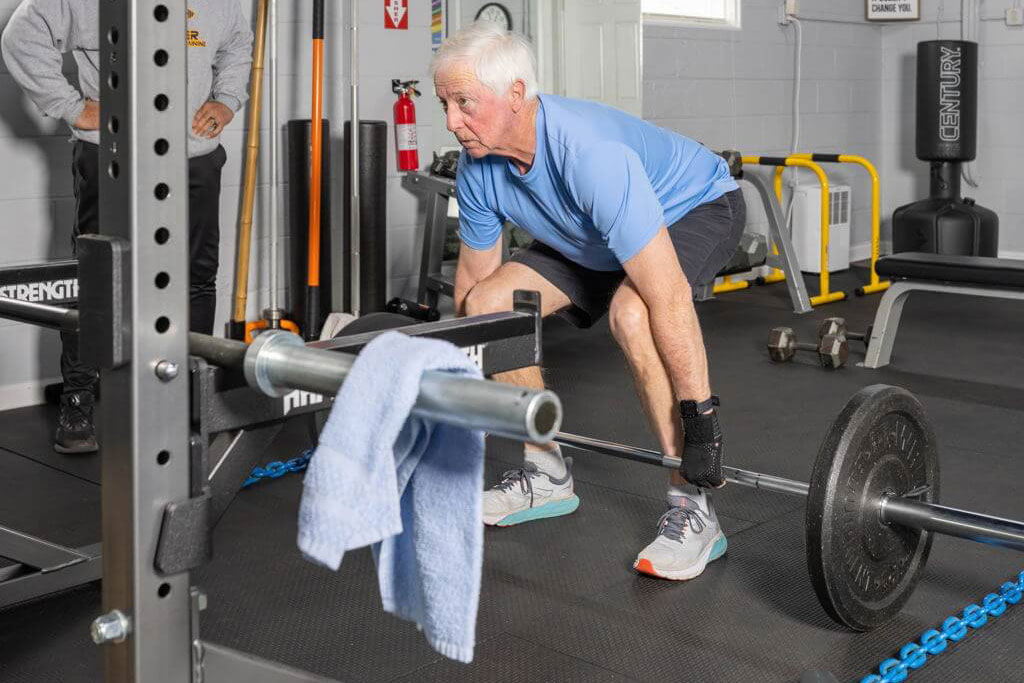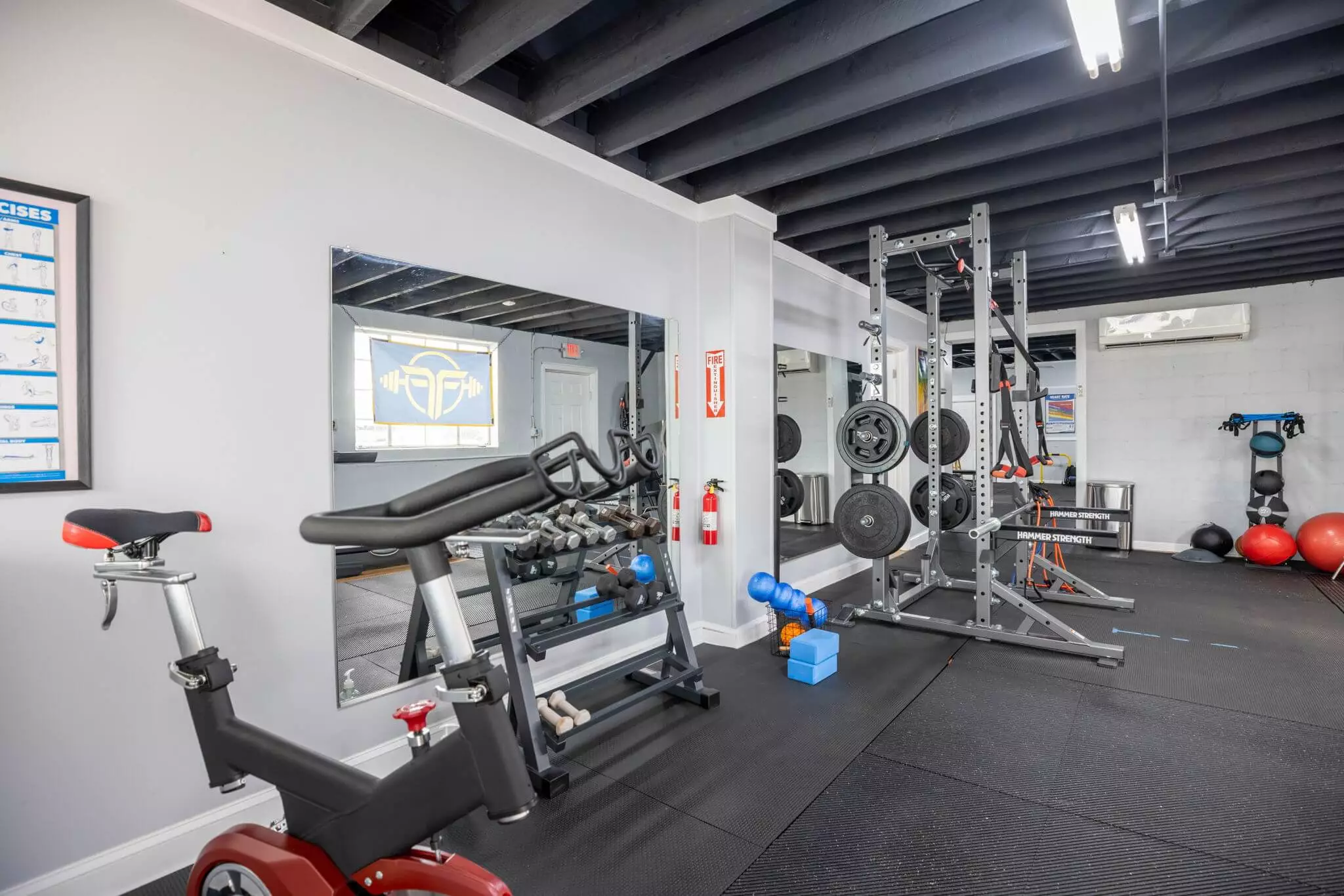 7 Health Benefits of Senior Fitness
Staying active is important at every age. And while you're not expected at age 75 to do the same workout you did when you were 20, there are still seven great health benefits awaiting you with regular physical activity.
Cardiovascular Health
Regular exercise that raises your heart rate will also lower your risk of heart disease. And it can also help to lower your blood pressure.
Stronger Bones
Weight training and muscle strength training help build muscles, which protects against the loss of bone mass. In other words, senior fitness is osteoporosis prevention and a lower risk of falling and broken bones.
Emotional Health
There's no doubt that the better your body works, the better and happier you'll feel. Seniors who do regular workouts experience fewer symptoms of anxiety and depression. Their overall moods improve, and they have increased feelings of happiness, confidence, and overall well-being.
Healthier Joints
When you activate those joints, they get used to moving again. Physical activity can help control any existing joint inflammation and reduce pain caused by arthritis.
Stronger Immune System
Having a stronger body means that you are better equipped to fight infections and recover from illness, injuries, and surgery. In turn, you may require fewer medications.
Reduced Risk of Dementia
When you take part in a regular exercise routine, your brain gets more oxygen and better blood flow, which increases cognitive and memory functions as well as problem-solving skills. And the increased activity removes unnecessary waste from both your muscles and organs. So, an active body leads to an active mind. It's truly a win-win situation!
Better Sleep
An active body means that you are tired at the right time of day and for the right amount of time. You'll wake up in the morning feeling refreshed and ready for a new day. So, get ready to sleep—and dream—better.
Senior Fitness: Recover from Old Injuries the Right Way & Faster
Have a bum knee? Arthritis? Muscle fatigue? He'll build a fitness routine that works with any existing injuries or weaknesses. Your customized senior fitness routine will get your feeling active, stronger, and more confident with just a few sessions. Watch how much fun you'll have when you see the progress you make.
Damian Fisher provides a variety of exercises for seniors based on your ability.
Light weights
Stretching
Easy balancing challenges
Leg strengthening movements
Chair exercises
Flexibility maneuvers
Endurance trainings
Plus more customized options!
Don't Wait Another Day!
Come alone or bring a friend with you! Damian provides senior fitness in the Kernersville area at his own private gym. That means no crowds and less noise… just people of all ages who want to stay fit and work out with their individual personal trainer.
Can't make it to our training facility? No problem! Damian can bring fitness to you!
Fisher Fitness Training has clients in the following areas:
Clemmons
Greensboro
High Point
Kernersville
Oak Ridge
Sandy Ridge
Stokesdale
Summerfield
Walkertown
Winston-Salem
And out of state!
 *As with any exercise program, please consult with your physician first.
Call Fisher Fitness Training TODAY
Discover How Senior Fitness Can Change Your Life!
336-314-9038